Meditech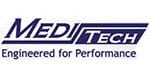 At Meditech , the process of making supplements and drugs is extremely rigorous. Meditech uses only high quality active pharmaceutical ingredients (APIs) (USP / BP), subject to a sanitary control process.
Meditech's laboratories are considered to be the most advanced in India. Its research department has gained a worldwide reputation thanks to its always innovative products. And meeting the standards demanded by the European markets, one of the strictest.
To satisfy even more its customers, Meditech allows to verify the source of its complements. To do this, simply go to the manufacturer's website via this link. By following the directions, each product is traced. This method makes it possible to fight counterfeits effectively.
We offer 32 genuine Meditech products: oral steroids, injectables and protections. The most popular Meditech products are: Clomid, Dianabol, Clenbuterol, Nolvadex, Sustanon 400 and 250, T3-Cytomel, T-Prop 100 (Testosterone Propionate), Anavar, Deca-Durabolin, Winstrol, Sibulean (Reductil) or the famous 50-Megavar (Anavar). All you have to do is define your objectives and let yourself be surprised by authentic products
Be reassured for the transaction, we opted for the best systems of payment with guarantees of security and discretion. Upon registration of your orders, a team moves to the preparation of the delivery. You will receive your package under 3 to 9 days.
No products matching your selection.