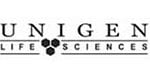 Unigen Life Sciences Ltd, is a private company. Founded in 2001, Unigen Life Sciences is a bio-pharmaceutical and biotechnology-based research company dedicated to the development, manufacture, commercialization and improvement of lifestyle and rejuvenation products. Unigen has had exceptional growth in the Asia region over the years by pursuing a strategy of multi-layered growth, strategic alliances and takeovers of companies such as Genesis.
With regional offices in South Asia, Unigen are committed to offering the value and quality of products that consumers have come to expect . Unigen is focused on continuously improving the way they do business.
You can check the authenticity of every product manufactured by Unigen Life Sciences directly on the manufacturer's official website.
No products matching your selection.