Myogen finally available

Hello everyone,
We are pleased to announce that the Myogen brand has finally emerged and is now available on https://top-steroids-online.com/
For fans like you who follow the news of anabolic products on specialized forums, you could not escape the original communication of this new entrant into the steroid market.
Myogen has set itself apart with a communications strategy that has never been seen in the sector, which is generally opaque, steroids.
Audacious and ambitious, the brand has decided to communicate for several months, even before the official release of the products. This strategy was a real risk because some saw this communication as pure marketing without pharmaceutical background. We work directly with all brands in our catalog and have followed the evolution of the brand in recent months. We can guarantee the professionalism of the MyoGen team and the pharmaceutical quality of the products.
We must in any case, welcome the innovative approach of this new brand. The quality of the products but also the effort of communication and marketing as well as the pretty design of the packaging make of this new laboratory a potential major player of these next years. Many people were waiting for the release of the first Myogen line and of course Top-Steroids-Online is on the way.

For the products available from the first MyoGen range, here is the list:
Injectables in box of 5 ampoules 1ml:
TestoGen 250 (Testosterone Enanthate)
DecaGen 250 (Nandrolone Decanoate - Deca Durabolin)
StanoGen 50 (Stanozolol Winstrol)
DianaGen 10 (Dianabol Methandienone)
OxaGen 10 (Anavar Oxandrolone)
StanoGen 10 (Stanozolol Winstrol)
We have also prepared customized packs for all levels (Level 1, Level 2 and Level 3), different formats (Oral and Injectable) as well as all budgets.
Thus, every athlete will find the products he needs for maximum efficiency for any purpose: weight gain, dry muscle, weight loss, dryness ...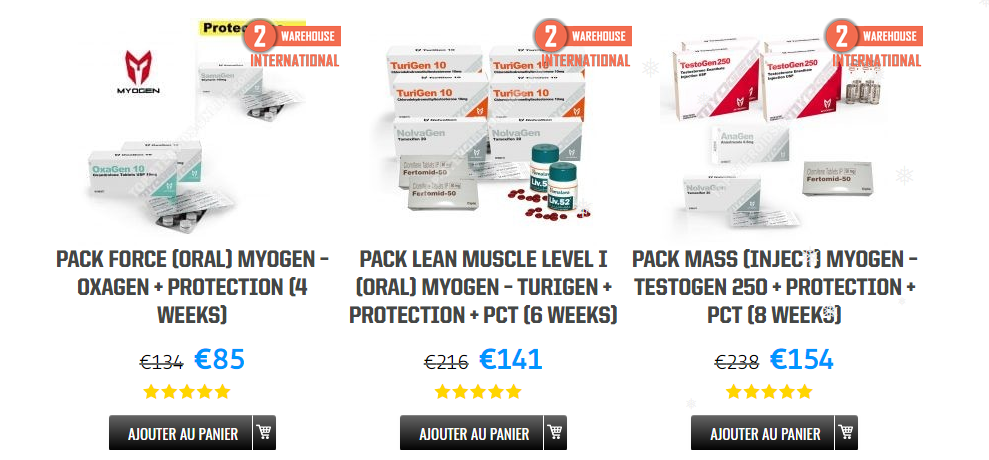 If necessary, we of course invite you to contact BEN, our specialist cure, to guide you to the pack that suits you better. It happens below:

Sincerely,
TSO Editorial Team