Description
Protections
Reviews (2)
Accessories
Warehouse Shipping 2 International
Lab Test
Objective:
TESTOGEN 250 (Testosterone Enanthate with the most used delay effect) is a product for a mass gain cycle. 5 ampoules of 1ml, 250 mg / ml. With the taking of this product you will get:
An impressive increase in muscle mass.
An increase in muscle strength.
This product is excellent if you want to make a mass gain. It combines very well with Parabolan, Nandrolone, Boldenone or with oral steroids such as Dianabol .
If taking to gain lean muscle mass, this product combines very well with Injectable Winstrol ou sex, Primobolan, Clenbuterol or even Cytomel.
If seeking to gain an increase in strength and performance, this product combines very well with Anavar ou Halotestin.
Dosage
500-1000 mg weekly
This product should be taken for a minimum of 8 weeks and a maximum of 12 weeks.
Protection
For more information on the necessary protection during your treatment, please click on the Protection tab.
Performance
Strength:

Weight gain:

Fat / water loss:

Side effects:

Gain Conservation:

Protections to take with Injectables
Protections to take with Oral Steroids
Accessories for injection of steroids
We ship this product in the following countries in 7 to 15 business days on average:
2 International Warehouse
We pay particular attention to the packaging and delivery of all your products. Each expedition is treated with the utmost care. All our products are reconditioned under vacuum to ensure protection, sterility and above all unparalleled discretion. We ship the products with their original packaging and instructions.
We send you your tracking number immediately after sending your package and you can track your package via the carrier's website (we send you all the information by email with your tracking number).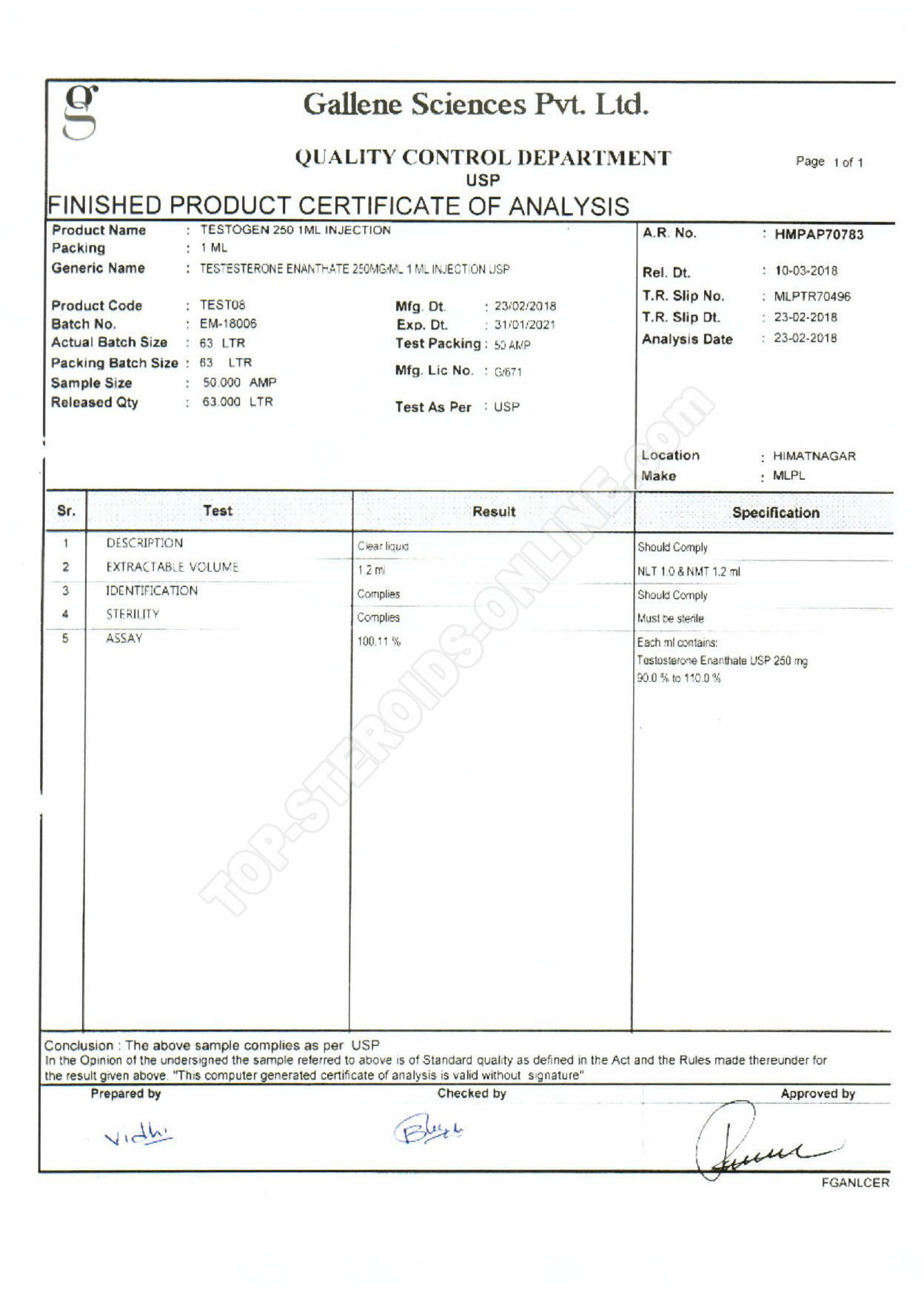 You might also like ...

PACK MASS (INJECT) MYOGEN - TESTOGEN 250 + PROTECTION + PCT (8 WEEKS)
From :
$

292
From :
$

292

LEAN MUSCLE PACK LEVEL I (INJECT) MYOGEN - TESTOGEN + STANOGEN + PROTECTION + PCT (8 WEEKS)
From :
$

311
From :
$

311