Top 6 Bodybuilders

Discipline is sometimes impaired by ignorance, however bodybuilding represents above all the quest for a perfect body shape, revealing every contour of each muscle and reminding us of the body that defines Greek statutes. Achieving perfection requires rigorous lifestyle and foolproof motivation.
So beyond simple " Mr. Muscle "I invite you to explore the six artists of the body that have created the history of a discipline that will leave a lasting imprint in the world of bodybuilding.
JOE WEIDER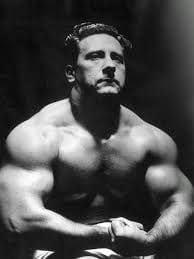 The famous Canadian businessman, born in 1920 will remain one of the most outstanding figures of bodybuilding. Indeed, we owe him the very famous international competition of Mister Olympia ", Created in 1965. This competition helped to professionalize the discipline. However, his involvement in the world of bodybuilding is not just the creation of this prestigious competition. Joe Weider will be throughout his life, a passionate leader in the Body care culture and will put all its efforts to democratize discipline. Thanks to his determination, he edited a multitude of magazines on bodybuilding and fitness. Among these magazines, we find FLEX, Muscle and Fitness, Shape, Natural Health et Fit Pregnancy. Since 1936, it offers new techniques for intensifying the development of muscle mass. In 1949 he founded with his brother, the International Federation of Bodybuilding. Considered a true father for many bodybuilders, Joe Weider discovered and trained many champions. Notably, he was the mentor ofArnold Schwarzenegger. For its commitment and contributions to the world of bodybuilding, was inaugurated the 21 July 2011 the first museum devoted to physical culture: the Joe and Betty Weider Museum of physical culture,. In this museum, located inside the football stadium at the University of Texas, you can immerse yourself in the history of bodybuilding, through his books, his legendary photographs, sculptures exhibitions and large personalities of the discipline. Died in 2013, at the age of 93 years, Joe Weider has succeeded in creating a family of Bodybuilders men and women who still wear the long in their heart as a father who revealed the discipline.
LARRY SCOTT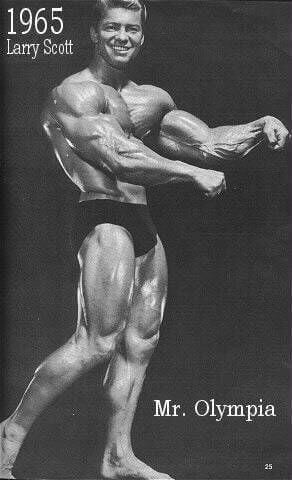 Born in 12 October 1938, in Idaho, Larry Scott made history in bodybuilding since he was the first champion in the contest of Mister Olympia in 1965, 1966 then.
From the top of his 1 76 meter and his 50 cm arm circumference, his fame resided in the bulging of his biceps. From this peculiarity will be born exercises relating to his person: " the Scott Press " or " Scott developed Are flexing exercises of the biceps from the famous desk. This desk was discovered by Larry Scott at Vince's Gym. He improved this material until he was named after him. Larry Scott died on 8 March 2014. But we still find on the sites dealing with Bodybuilding, the description of his exercises and his famous desk.
ARNOLD SCHWARZENEGGER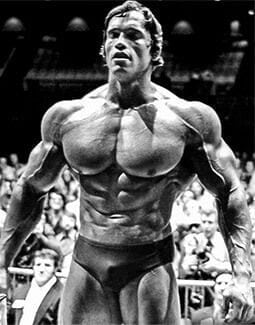 Our famous Terminator 1980-90 years, the legendary muscle-man, was born in 30 July 1947, in a small Austrian village. As a child, he received a very strict education by his father, a former officer of the Austrian army. Not wishing to comply with paternal education, Arnold developed a rebellious spirit early, dreaming of becoming little by little, the strongest and the richest man on earth. From the age of six, he was fascinated by the champions, particularly when Johnny WeissmullerFormer Olympic champion, had just inaugurated his village with a new pool. But the triggering event that explored the personality was seeing REG PARK, former English bodybuilder, in a magazine. From then on, Arnold has only one ambition: to follow in his footsteps.
He then participated in many competitions during his career and thanks to his determination, he won a total of five titles of Mister Universe and seven Mr. Olympia. In 1975, directors Georges Butler and Robert Fiore will film him during his training sessions. This meeting will give birth to the famous documentary film « Pumping Iron ". This film will bring a little more, bodybuilding to the population and our future actor.
Although Arnold directed from 80 years during his career to the cinema, his involvement in the world of bodybuilding will never die. We will always find him again with his mentor JOE WEIDERat important events. Moreover, he writes regularly articles for Muscle and Fitness and Flex magazines and he created many gyms. A true icon of bodybuilding but also one of the most influential people in the world, MuscleMag magazine pays tribute each month by devoting a double page in their magazine. In 2013, it makes a poignant tribute to his father Joe Weider bodybuilding since he disappeared. Since then, he is the editor of Flex and Muscle & Fitness magazines. Arnold has also created his own competition, theArnold Classic, One of the most lucrative bodybuilding contests, held between February-March every year since 1986.
LEE HANEY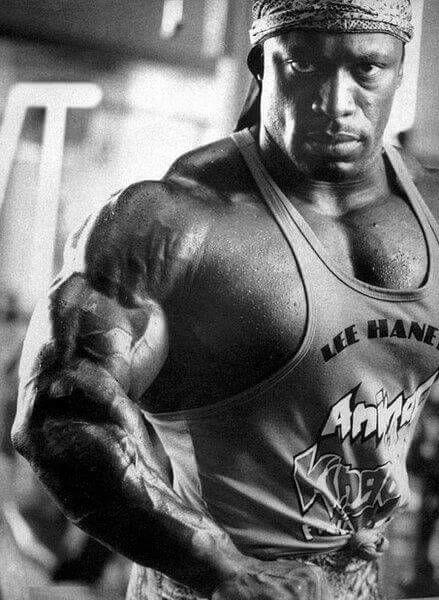 Born on November 11 1959, LEE HANEY, standing at 1 80 meters, marks the history of bodybuilding since it is the holder Ronnie Coleman with the record of victories won in the contest of Mister Olympia. Indeed, LEE HANEY was the winner of the prestigious contest in 1984 1991. But for a degree in child psychology, his bodybuilder titles begin in 1979 where he won first place in the competition ofMister American Grand Addeslescents. From then he was ensured first place in the junior national championship HEAVYWEIGHT and heavy weight Amateur World Championship in 1982. His determination led him to contribute many great prizes 1983, including one in Las Vegas where he was propelled to the top spot. Concerning the Grand Prix of England and the Grand Prix of Sweden, it will arrive in second place. For the Grand Prix of Switzerland, it will be ranked third. And for the night of Champions, he was promoted to the top spot. Apart from these eight wins of Mister Olympia, he won in 1987, the Germany Grand Prix.
Today, LEE HANEY, father and devout Christian created his own show: Trinity Broadcasting Network. He remains very committed to bodybuilding and you can also follow him through his Twitter account. LEE HANEY also developed his website where you will find his advice, courses and articles in his shop.
JAY CUTLER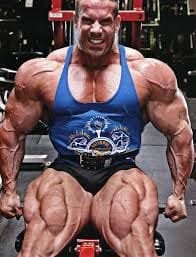 Born in 3 August 1973, holds four titles of Mr. Olympia. It happens to the first places of this prestigious competition 2006 and 2007 initially. Then he defended his title in 2009 and 2010. Thanks to his very intense workouts, JAY CUTLER was working hard to defend another title in 2011. Only an injury a month before the competition led him to second place.
He had surgery for this injury in February 2012.
Jay CUTLER is recognized for the impressive volume of his shoulders and the consistency of his pectorals. Today, he continues to promote through videos, his intensive workouts methods.
PHIL HEATH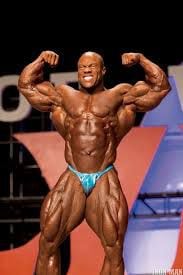 Born 18 December 1979, this young American bodybuilder, is the current holder of the prestigious title of Mister Olympia. To date, he has won four titles of the famous competition: 2011, 2012, 2013 and 2014. You can find him on his accounts: facebook ou twitter.
On youtube you will find his perseverance in his workouts.
So, will he be the Mister Olympia 2015? Response in 7 days!
(update : PHIL HEATH has added the Olympia 2015 trophy to his impressive record)
The fact remains that PHIL HEATH is determined to beat the record of victories. We can only wish him courage and continue to give the best of himself. Because we all keep in mind its image, crouching, his face turned towards the ground, when the contest presenter announced his name at the last victory Mister Olympia. A very strong moment !!!
All these personalities have dedicated and still dedicate their whole lives for some, their belief to achieve this quest for absolute beauty of a perfect body contour. We can only admire their hard work and amazing dedication in their quest for perfection.